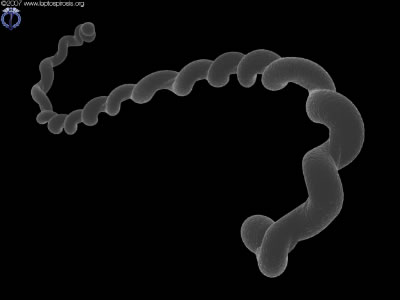 Leptospirosis is a bacterial infection caused by certain members of the genus Leptospira. Most people who develop a leptospirosis infection only get mild symptoms, but a bit more serious influenza-like symptoms are also quite common. In a minority of infected persons, leptospirosis develops into the dreaded Weill's disease. Weill's disease is a serious condition that can involve liver failure, kidney failure, meningitis and sepsis. Weill's disease can be lethal.
Weill's disease is caused by Leptospira interrogans belonging to the serogroup Icterohaemorrhagiae or Pomona. A person who develops Weill's disease will usually have gone through influenza-like symptoms of leptospirosis for a week or so, and seemingly be well on their way to recovery. After a short period of no symptoms or only mild symptoms, the person gets very ill with symptoms of poor liver function, poor kidney functions, meningitis and/or sepsis. The lethality for Weill's disease is 5% – 10%.
Transmission
Urine and blood from a leptospirosis infected person or animal can contain a sufficient amount of bacteria to spread the disease. A common transmission route for humans is getting urine or blood from an infected animal on damaged skin. Even a tiny skin abrasion can be enough for the bacteria to get into the body. Leptospira bacteria can also enter the body through mucous membranes, e.g. those found in the eyes, nose, mouth and genitals.
When infected blood or urine gets into water or soil, the bacteria can survive there for several months. Contract with contaminated water or soil can be enough to catch leptospirosis, e.g. if you have a small abrasion on your skin or get water/soil onto a mucous membrane. Also keep in mind that water and soil can contaminate food, and food can also be directly contaminated by urine and blood.
Many different animals can carry and transmit leptospirosis, including dogs, rodents, cattle, horses and pigs. An infected animal is often symptom free and can continue to excrete bacteria into the environment year after year.
The incubation time for leptospirosis in humans is usually one to two weeks, but anywhere from 48 hours to more than a month has been reported.
Symptoms
Examples of symptoms from the eyes
Eye inflammation can occur, with reddening of the eyes and increased sensitivity to light.
If leptospirosis bacteria causes liver inflammation with poor liver function as a result, one noticeable symptom can be the yellowing of the sclera. The sclera is the white part of the eye; the part that surrounds the iris. When the liver isn't working properly, the sclera becomes yellow due to increased levels of bilirubin in the body. In some cases, the sclera can even look greenish. Always check your eyes before you put in your contact lenses if you wear colored lenses. If you do not you risk not seeing the symptoms of leptospirosis, liver damage and a long row of different diseases.
Exemples of symptoms from the skin
Skin rash
If leptospirosis bacteria causes liver inflammation with poor liver function as a result, symptoms can include the yellowing of the skin due to increased levels of bilirubin. In such situations, itchy skin is also common. In severe cases, the skin can look greenish rather than yellowish.
Examples of symptoms from the digestive system
Stomach ache
Diarrhea
Vomiting
If leptospirosis bacteria causes liver inflammation with poor liver function as a result, symptoms can include pale feces and dark urine.
Examples of symptoms from the respiratory system
Coughing up blood (caused by lung bleeding)
Examples of other symptoms
High fever
Chills
Headache
Muscle ache
Edema
Treatment
Leptospira bacteria are sensitive to several different antibiotics, including well-known ones such as Penicillin and Doxycycline.
If the infection is diagnosed early and symptoms are mild, oral antibiotics are often sufficient. In more severe cases, intravenous treatment with antibiotics may be necessary. Each individual symptom can also require specific treatment. If kidney function is impaired, dialysis can be carried out.
When an MD has good reason to suspect leptospirosis in a patient, antibiotic treatment is typically started right away, without waiting for test results.
More information
Centers for Disease Control and Prevention (CDC):